General News
Owusu Bempah Threatens Captain Smart With Law Suit
Host of Onua TV's Maakye Show, Captain Smart is being threatened with a lawsuit by Ernest Owusu Bempah, the Corporate Communications Manager for Ghana National Gas Company Limited, for defamation. Captain Smart is by a letter served on him by lawyers of the Mr Owusu Bempah, urged to retract and apologised for some derogatory and unsubstantiated remarks he made about the latter lest face the legal consequences.
By the notice as served by his counsel, Raphael Agyapong of Kwame Gyan and Associates, Atiwa Chambers, the broadcast journalist on November 9, 2021, impugned the person of Mr Owusu Bempah with allegations of corruption. Captain Smart is said to have labelled Mr Owusu Bempah as stupid and sick, a remark which has been described as distasteful and uncivil.
By the weight of the language used in the notice, Captain Smart could find himself in real trouble as he is challenged to prove the allegations that Mr Ernest Owusu Bempah had acquired some three properties through dubious as an employee of the Ghana National Gas Company Limited. He is given an ultimatum to retract these comments and render an unqualified apology before Friday 19 November 2021.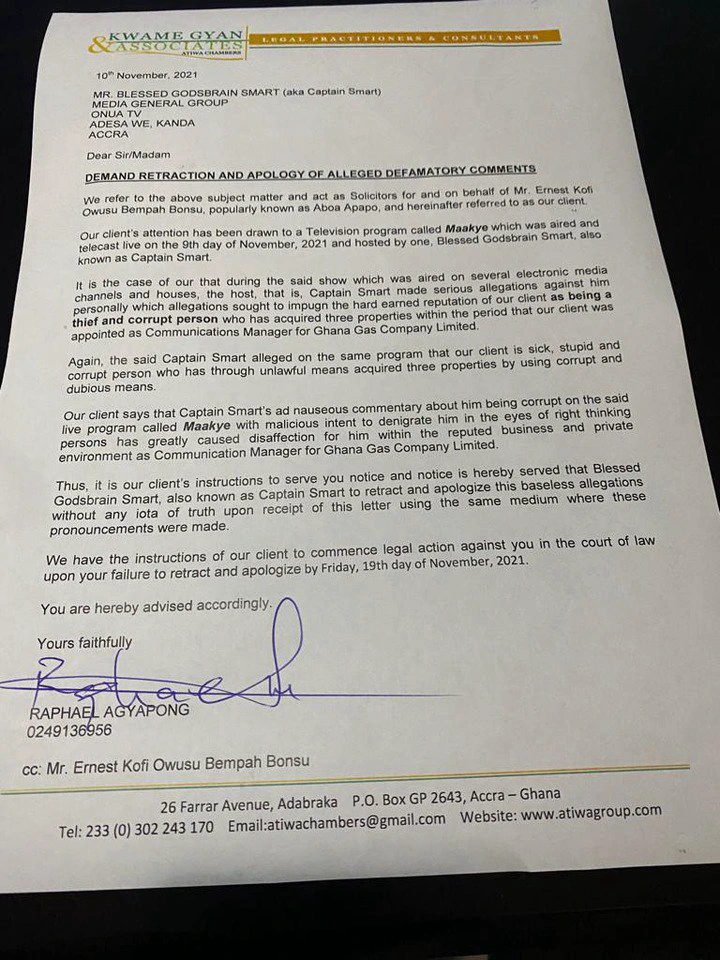 The failure of which, according to the lawyer of Mr Owusu Bempah would trigger the commencement of legal actions against Captain Smart. The Media General Group, the conglomerate of Onua TV, TV3 and others would have to intervene in this matter before it gets out of hand.
It would be recalled that the said allegation has once been said by Kevin Taylor, leading Mr Owusu Bempah to dispute the claims. It is strange that Captain Smart had revisited this allegation despite the counterclaim that had long been published by Mr Owusu Bempah.
This morning, it is expected that Captain Smart will reason with the notice served on him and do the needful. Should he fail to do as stipulated and within the defined time, Mr Owusu Bempah would cause his lawyers to file a suit against him and perhaps the Onua Television.