General News
Sammy Gyamfi Boldly Storms Asempa FM With A Printed Document To 'Expose' Bawumia Over MoMo Taxes
The post budget analysis and debate seems not to simmer down any time soon as it continues to spark a longstanding tussle between the two leading political parties in the country. Undoubtedly, the budget has faced a stiff opposition from the Minority Caucus in Parliament and the opposition National Democratic Congress as a party.
One popular tax that has sparked some controversy among Ghanaians is the introduction of the mobile money transactions tax and the bank transfers taxes. According to the Finance Minister, government would tax 1.75% for every transaction above 100 cedis, a policy to increase government's revenue for the fiscal year by 7 billion cedis. Another notable policy is the cessation of the road tolls on both public and private roads.
A while ago, a fresh information trickling in has it that the Speaker of Parliament, Rt Hon. Alban Sumana Bagbin has directed the Minister of Roads and Highways to reverse his order to close toll booths across the country. Many have also thrown their support behind him as he described the directive from the Minister as a contempt of Parliament.
Today, November 18, 2021, the National Communications Director of the opposition National Democratic Congress has granted an interview on Asempa FM's Ekosiisen show hosted by Osei Bonsu to share his party's views on the budget. Sammy Gyamfi boldly stormed the studios with a printed document to expose the ills under the Akufo-Addo and Bawumia government. On this paper, Sammy Gyamfi revealed that over 32 billion cedis have been detected by the Auditor General as irregularities since the NPP government came to power.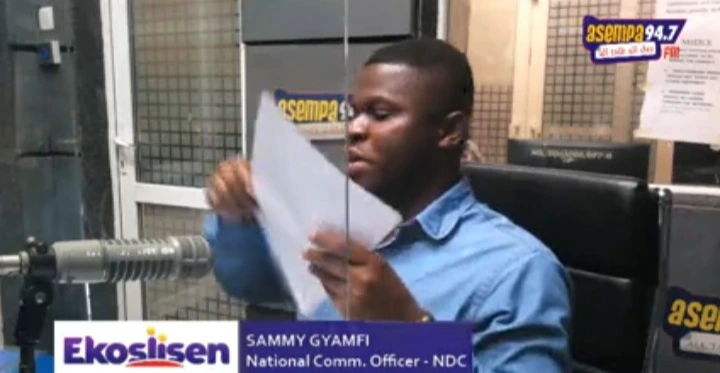 Reacting to the new electronic transactions tax introduced by the government, Sammy Gyamfi expressed his disappointment over the new attempt by the government to pile up burden on the people. Sammy Gyamfi explained that, there would be no need for the new taxes if government had reduced the corruption in its administration. According to the verbose Communicator, he can only blame the government's desperate attempt to tax Ghanaians on the mismanagement and high corruption that has robbed the country millions of cedis.
Speaking further, Sammy Gyamfi commended the Speaker of Parliament for ordering th Minister to reverse the toll booth directive. According to him, the Speaker has taken a step in it's right direction and needs to be applauded by Ghanaians. He said, "Is this the agyenkwa budget they claim? This is the most empty budget I have ever seen; budget that brings more hardships."