News
Change All The Leadership Around You, Including Chief of Staff- Joseph Archibald to The President
The President of the Republic of Ghana, Nana Addo-Danquah Akuffo-Addo who has also been re-elected to serve another 4-year term, has been advised to make some changes to the leadership structure around him.
This information was communicated to the the President by one Mr Joseph Archibald Adjei, who happens to be a staunch NPP aficionado, and the campaign team coordinator of the MP-elect for the Anyaa Sowutuom Constituency, Dr Adomako Kissi.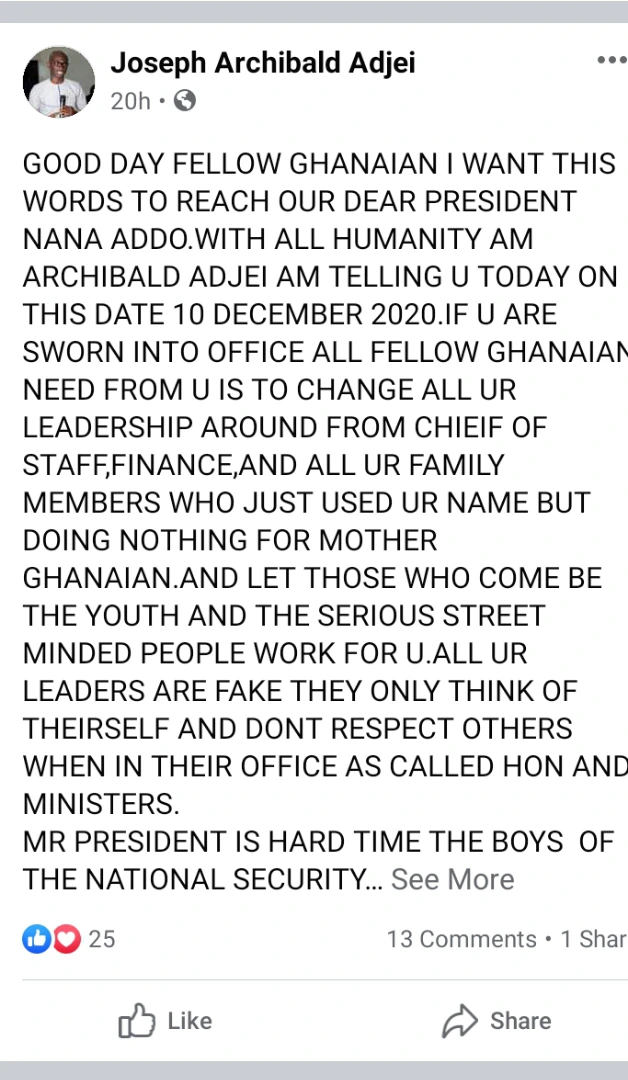 Just some few hours after the declaration of the results of the Presidential Elections by the Chairperson of the Electoral Commission, Mr Archibald in a form of an open letter took to his facebook wall on the 10th of December, 2020, thereby urging the President to sack the Chief of Staff, Madam Akosua Fremah Osei Opare, The Finance Minister, Mr Ken Ofori Atta, and all family members among others, who according to Mr Archibald, used Nana's name to their personal advantage thereby doing nothing for Mother Ghana.
He however suggested that, Nana Addo-Danquah Akuffo-Addo, should rather consider the youth and the grassroot members, who are street-minded in his next appointment of state officials. "All your leaders are fake, they only think about themselves and don't respect others when in their offices, the so called honourables and ministers", he emphatically opined.
Mr Archibald also addressed the ordeals the boys at the National Security are going through, in that, he thought the boys at the National Security should be respected by the various Officers of the Party and the state since those security operatives are the ones who risk their lives for the leaders and the party at large.
He concluded that, had it not being the hand of God that was upon Nana, reliance by Nana on the lies from the people around could have cost him and the NPP this elections. "The hand of God is upon you, if not you would have lost this Election as your people kept lying to you that all is well at the grassroot level", he said.