News
Health workers react to JM saving lives of victims
There have been massive reactions both in social media and traditional media alike about former President John Dramani Mahama saving the lives of two accident victims in Ho yesterday.
CitizenOne went to town to interview people on this trending subject. Many are those who were impressed by Mahama's compassion to the helpless victims. Health workers were not left out as they couldn't believe the man is a first aid expect.
One of such people is a Physician Assistant by name Matthew Gyagiri who couldn't hide his excitement following the news. He told CitizenOne in an exclusive interview that he didn't know Mahama had adequate First Aid skills.
The medical profesional stated that up to 10% of accident victims who die could had been saved by the first people who see them. But due to lack of First Aid skills, such people loose their lives.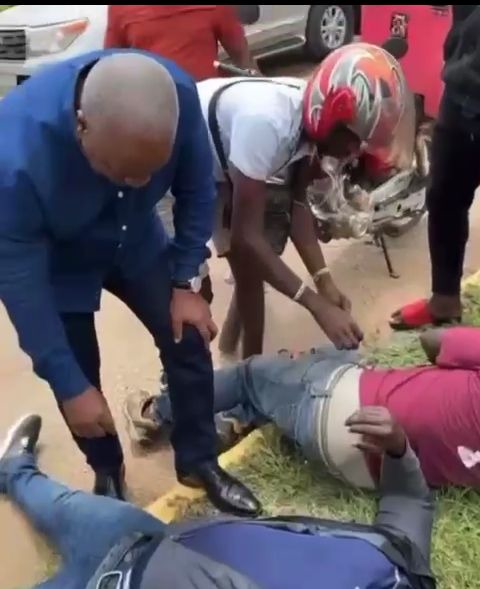 He said in every accident scene, the first thing a First Aider must do is to be calm and quickly assess the victim's level of consciousness. This is usually done by calling the victim by name or comanding him to move a body part while asking another to call the ambulance. While waiting for the ambulance, resuscitation and positioning is done thus ensuring airway patency, breathing and circulation, he added. "Mahama was seen going through all these processes, an indication that he took his First Aid training very seriously", Mathew told this reporter.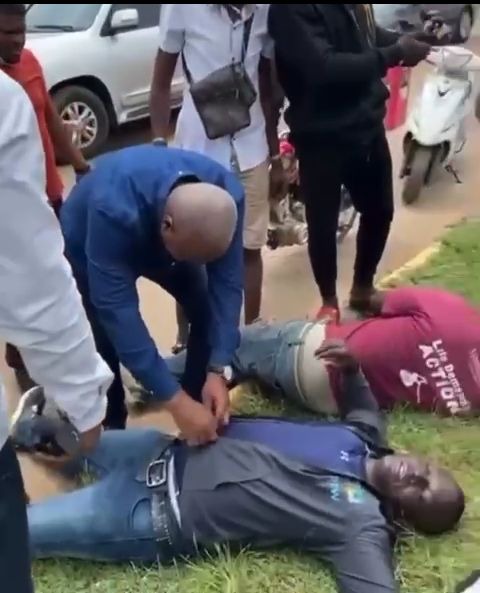 He called the bluff of those who say the president could had assisted with one of his vehicles. According to Matthew, depending on the state of the victims, they were better of in a good position on the floor than being bundled into a non ambulance vehicle. He was pretty sure the ambulance arrived before everyone left the scene.
Background
Former President John Dramani Mahama was on his way to Accra from Ho, the Volta Regional capital yesterday when he saw two men lying helpless by the road side. Details of the incident isn't known. However, judging by the pictures, it's possible they had a crash. JM as he is affectionately called commanded his convoy to stop while he attended to the victims himself. A video of his helping hand has since gone viral in the wee hours of today.
CitizenOne can report that the two men are currently responding to treatment at Ho Municipal Hospital and their bills are being footed by President Mahama.
Story by : CitizenOne