Politics
3 Top NPP Executives In Trouble As Deep Criminal Charges Has Been Initiated Against Them – Abronye
Bono Regional Chairman of the NPP Kwame Baffoe Abronye made this known in a press release.
According to him, Three top New Patriotic Party executive members namely Mr. Evans Kyere ( Deputy Organiser), Mr. Muhammad Ibn Ahmed ( Youth Organiser) and Christian Gyabaa Yeboah ( Research and election officer) have been dragged to the Fiapre Circuit Court with criminal charges pressed against them.
The three were reportedly sued by Mr Maxwell Mahama who is the public relations officer for the Bono Regional National Health Insurance Directorate.
After the confirmation of the legal action, Chairman Abronye however refused to disclose the main writ of summons.
According to him, when any party member feels disgruntled, there are mechanism of conflict resolutions to follow. However, Mr Maxwell Mahama's action of dragging his fellow party members to court can't be tolerated.
Therefore he ( Maxwell Mahama) has been suspended by Kwame Baffoe Abronye and his executives for washing the dirty linen of the party in public.
Initially, Mr Maxwell Mahama who was the Communication officer for the Sunyani East Constituency had fought Abronye and the Regional executives for illegally taking his position from him.
Check out the official release from Abronye below detailing the issue at hand. You can read the 5th paragraph.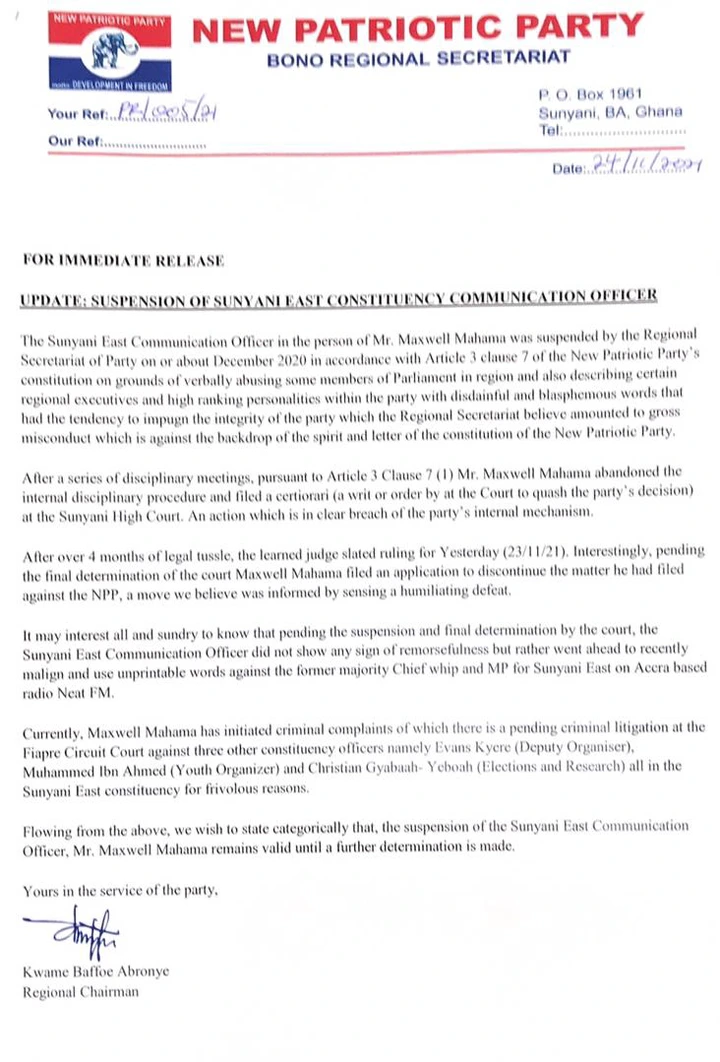 Source: Operanews